Ayodeji Balogun, better known as Wizkid, is a multi-award-winning singer, songwriter, and performer from Nigeria who is currently the topic of conversation as fans celebrate the annual Wizkid Day in the state of Minnesota.
Wizkid was the first African performer to sell out the Skyway Theatre in Minneapolis on October 6th, 2018. The State of Minnesota's Governor, Mark Dayton, proclaimed October 6th as Wizkid Day in a sealed and stamped declaration to recognize the Grammy-nominated artist for his musical accomplishments and influence on culture.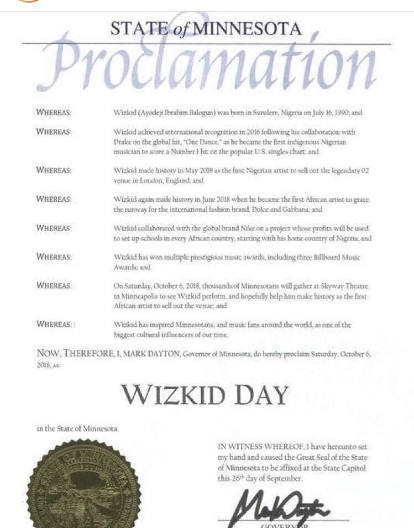 Four years later, fans are still having parties, and today, October 6, 2022, was no different. People celebrated Big Wiz's day on social media, making him one of the top trending topics on Twitter.
As a national treasure who has won numerous accolades and broken records, Wizkid "Biggest Bird" deserves to be honored.
So, as we honor World Wizkid's Day, guys
Which Wizkid song is your favorite of all time?
Let's hear your opinion.