As he responds to claims of jealously of Blaqbonez's Back In Uni video, TG Omori has drawn the ire of users of the bluebird app, Twitter. Read our story below to see what the video director had to say.
On the most recent episode of "Twitter NG Music Tussles," Blaqbonez's Back In Uni music video director, TG Omori, finds himself in a confrontation with a well-known Twitter user after being accused of being envious of him.
Asiwaju Lerry, a well-known Twitter influencer, responded to the video director's simple tweet of "Skits," which caused things to escalate. Lerry then accused TG Omori of being envious of Blaqbonez's video.
"TG Omori is the last guy I anticipated to be throwing shade at Blaqbonez music video," Lerry wrote on Twitter. Is he envious or has the Twitter craze made him delusional? Omori then reacted with a quote tweet in which he expressed his love for Blaqbonez. "Lol jealous?" he exclaimed. You Dey discover a relationship, right? Blaq is a brilliant n entertaining person most of our videos together except shut up n bling were his ideas so wasn't expecting less. I am aware that you have been asking God for a TG OMORI dragging date, but not today. Rest, then.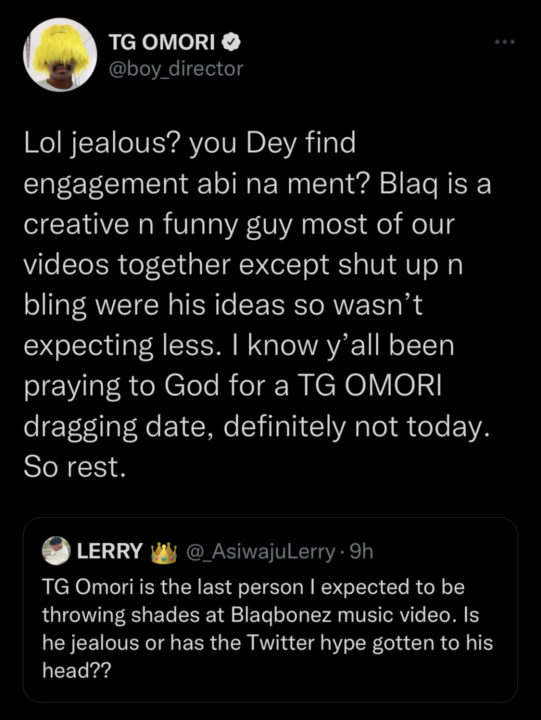 "Lol na only SKITS wey I tweet na why you wan level my scores?" he continued, adding to his earlier statement. Boy, be careful.
The music video for Blaqbonez's song Back in Uni was released today, October 12, and it was directed by Blaqbonez and Perliks Definition. Blaqbonez decided to become a video director because he couldn't afford TG Omori's fee, a decision that was publicly made public.