Some bank officials in Nigeria were caught on camera scaling a barbed wire fence to avoid angry customers.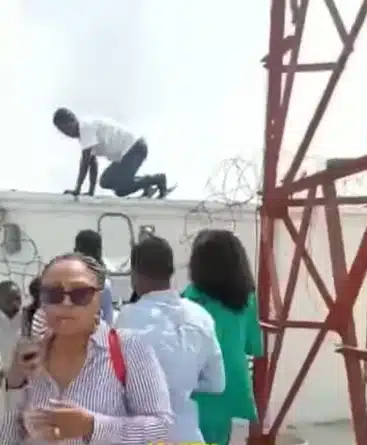 Nigerians' reactions to the scarcity of the new Naira notes introduced last year have been mixed.
SUGGESTION: You can get News updates directly on WhatsApp by clicking "HERE".
Several videos have surfaced showing Nigerians waiting for hours in long lines to use ATMs, while others have resorted to sleeping over to get a spot the next day.
More extreme and intense reactions have also been recorded as some residents have stormed banks to destroy properties both of the bank and its workers.
To avoid falling victim of being manhandled by some aggrieved customers, some bank officials had resorted to scaling fence with ladder.
Although it is not known where the incident occured, a viral video online captures the staff taking turns to climb a fence.
Watch the video below:
https://www.instagram.com/p/CoWdYk5tL5c/?utm_source=ig_web_copy_link