Aralola Olumuyiwa, often known as Ara, is the most prominent female talking drummer in Nigeria. She has remembered how her life quickly spiraled downward after gaining notoriety.
The drummer claims that this occurred years after a family friend told him about a dream he had about her. In an interview with The Nation, she stated:
"In 1999, a photographer to a family friend who was very close to us came running to my place one afternoon. Then I was still in my parent's house at Ajao estate, he lived in Mafoluku. I was sleeping. My mother told them to wake me and that photo wants to see me. That he is from Bayelsa. I went. He said, Lola, I dey dream o. I dream and I see you this afternoon. God bring your picture come do am like this for my face, say go and look for my daughter, tell her to serve me, to seek me everything she wants, I will give her. If she does not serve me, if she does not seek me, she will see paper and call it money on the floor. And it happened to me. I thought it was a joke."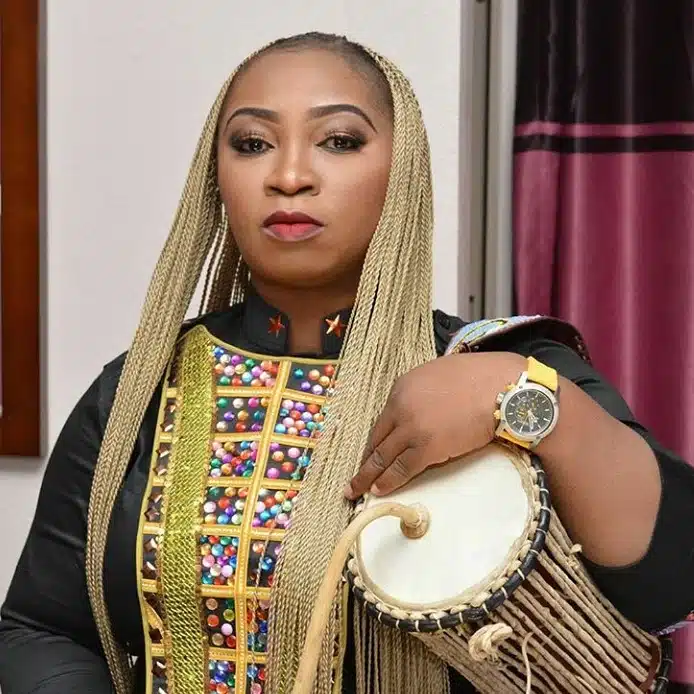 Ara admitted that when nothing continued to go her way, she began to battle God. She also talked about spending over a year in a single motel room.
But the drummer went on to say that after she cried out to God and asked him what he wanted her to do, things started to get better.
Ara furthered:
"All of a sudden everything stopped working. People that would call for shows all of a sudden, everything stopped. Shows that I get paid N3m is what people would be pricing for N100,000. To cut the long story short, I became homeless, I couldn't afford to feed, couldn't pay my child's school fees, I sold all of my cars, sold my hummer jeep, Hilux, things started going bad. It got to a stage where I said this must be the hand of God. Something is wrong. I went for prayers and I was told that nobody is fighting me, that this is God. Listen to him. He wants to use you for something but you are not listening to him. I said okay but you know we are stubborn. I started fighting God, I suffered the more. For almost one year, I lived in one room in a hotel. This is in 2019. But you see the day I cried like the prodigal son, I said, God this is me, whatever you want to do with me, you made me, you moulded me, please, forgive me, I have come back to you. What do you want me to do?
"When things started happening to me, when I went through that process of from hero to zero, I remembered that dream. Meanwhile, I have dumped this project. I went back to God to say that the people that would help me is You. It is not how talented, connected or how popular I am now, it is You. If this is your hand God, bring the people. The day the governor called me, I nearly entered the gutter. I said this is God. Let me share something. The day I received the endorsement letter on December 22, I took that letter and I was going home to share with my younger brother. I got home, opened the envelope, there was no letter there. It disappeared. 
"Till today, I don't know where it disappeared to. I didn't go anywhere. I called the ministry to ask if I left it, they said I didn't because I folded it and kept it. We thoroughly searched for it. Meanwhile, I told the DG that it has taken almost 10 years to get the letter from Lagos state. He asked what happened, I told him it was spiritual that he cannot understand. When I didn't find that letter I called him back and said sir, I can't find that letter. He said that is the only original copy they did that they only have photocopies. I told him not to worry that I would work with it, that he should please give it to me. But before 11pm, he called me back. I had said to God if it is you, you would do something again. Before 11pm, they called me again to say they were able to get the honourable commissioner to sign another original. I got it back. Today the honourable commissioner is here. I did not meet him one on one until a few weeks ago in his office.'