While playing the third sugar sister in Kayode Kasum's 2019 comedy-thriller Sugar Rush, Bimbo Ademoye successfully stood out and stole scenes from actresses like Adesua Etomi-Wellington and Bisola Aiyeola.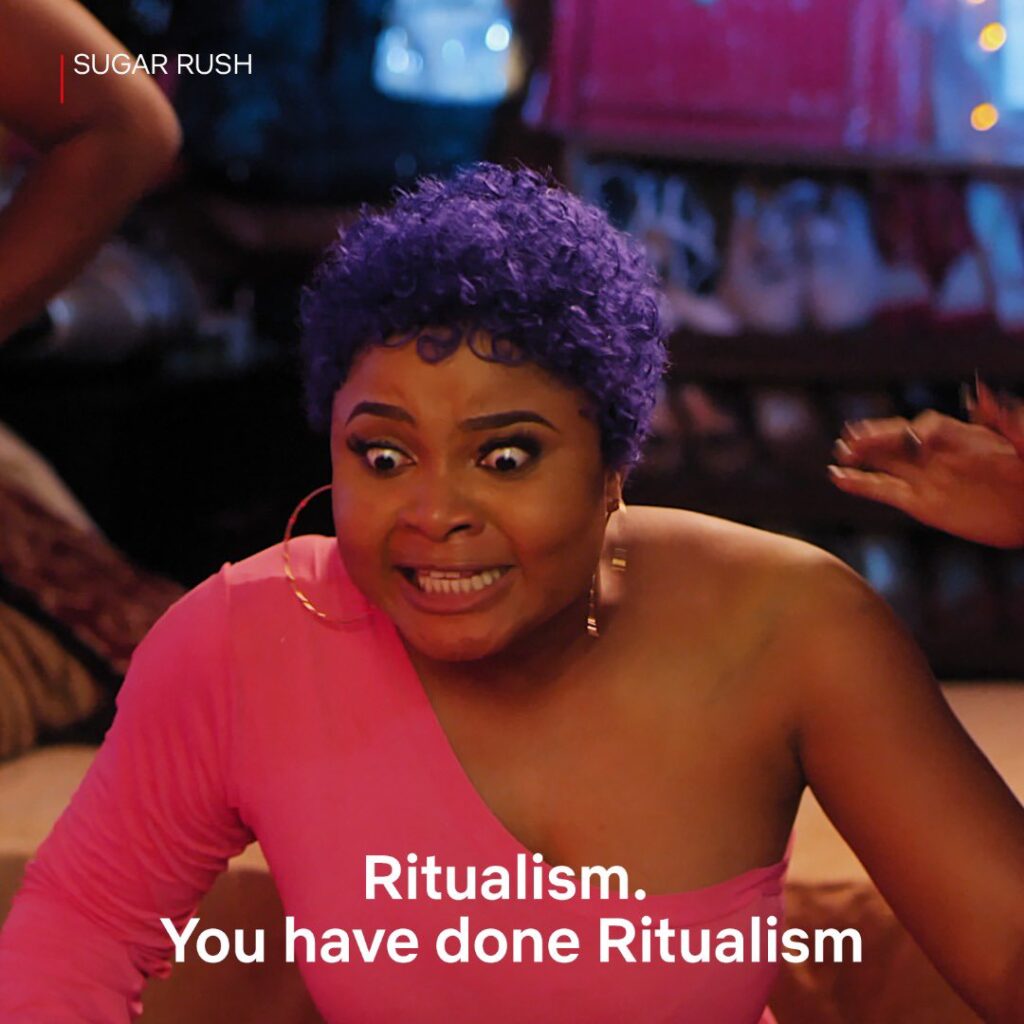 Bimbo Ademoye has emerged in 2020 as the movie's breakout star and the subject of innumerable memes. She went from being an underappreciated YouTube and Iroko TV actor in movies like The Diary of a Crazy Nigerian Woman and One Long Day to a Netflix king in Kunle Afolayan's Anklápó.
Back Up Wife with Seun Akindele from 2017 was my introduction to Bimbo Ademoye. Her performance brought to mind Funke Akindele's breakout performance in the 2008 film Jenifa. Even while it was entertaining, I was also afraid of these roles—the razz rural girl who accidentally becomes the brunt of every joke—because we'd seen how they'd come to be a stereotype Funke Akindele still finds difficult to break years after Jenifa.
I'm not surprised Bimbo has been able to hold our attention given how frequently modern Nollywood relies on humorous elements, whether or not they are necessary. She was the funniest sister in Sugar Rush, the humorous companion in Nneka the Pretty Serpent, and we can't forget Ayinla from the iconic Tunde Kelani.
Bimbo, on the other hand, slides through it with ease while other artists cling on these humorous bits like their life rely on it. Her quips are always on point, and she consumes the stage so completely that I worry about her back about half the time because it can't be easy to carry a show from beginning to end.
Comedy frequently results in one-dimensional characters, but Bimbo seems to have modified the clichés she was given to create people that seem genuine. Yes, in movies like Selina and Breaded Life, her persona is portrayed as a comedy. Even though these characters are exaggerated and imaginary, you end up understanding their reasons and the possibility that they could be actual people rather than just laughing at them.
With his most recent Netflix project, Anklápó, Kunle Afolayan finally earned my respect after directing Citation, a movie that failed to make the post-sex for grades statement it was intended to, and Swallow, which was famous only for its wigs, production design, and Ijeoma Grace Agu's transformative performance.
The Yoruba epic, which was released in September 2022, soon rose to the top of the list of Nollywood movies discussed that year. Anklápó also served as a further warning that, even in the 1900s, guys will humiliate you.
Bimbo doesn't have to be amusing to captivate you with her act, as Anklápó demonstrated. Gone, a 2018 redemption drama directed by Daniel Ademinokan, was another movie that made reference to this aspect of her. It was at that point that I first had the impression, "Omo, this chick is going to go all the way."
Additionally, the fact that Bimbo genuinely has a personality off-screen doesn't hurt. She has amassed over two million followers on social media thanks to her sense of humor and ability to transform what could have been unfunny sponsored advertisements into amusing unique skits. You should really get into her Instagram persona, Iya Barakat, if you haven't already.
It's safe to say that Bimbo has made the transition from being underestimated to the it-girl of Nollywood with the announcement of Sugar Rush 2 and the upcoming releases of Gangs of Lagos on Amazon Prime. Since Bimbo has become everyone's favorite, that's okay even though I know we all adore it when our favorites are underappreciated. It implies that we have taste from the beginning.
I'm very eager to see more of Bimbo Ademoye, and yes, as this tweet stated, we're still hoping for a Bimbo and Uzor Arukwe romantic comedy as Nollywood continues to push itself with films like Brotherhood and For Maria: Ebun Pataki.