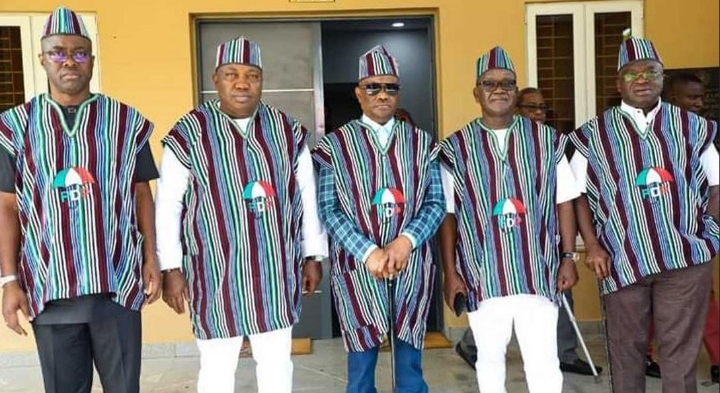 The National Working Committee of the Peoples Democratic Party of the Peoples Democratic Party has decided to deal with the Governor Nyesom Wike-led Integrity Group after the elections for their alleged anti-party activities, according to the Punch.
Wike of Rivers State, Ifeanyi Ugwuanyi (Enugu), Okezie Ikpeazu (Abia), Samuel Ortom (Benue), and Seyi Makinde (Oyo) pulled out of the PDP Presidential Campaign Council last year, insisting that except the National Chairman of the party, Iyorchia Ayu, quits his position, they wouldn't have anything to do with the campaigns.
Following Ayu's refusal to go and the PDP candidate, Atiku Abubakar's apparent non-interest in the sacking of the former Senate President, the governors have since pitched their tents with their preferred presidential candidates.
While Makinde and Wike were said to be allegedly working for the All Progressives Congress candidate, Bola Tinubu, Ortom has openly endorsed the candidate of the Labour Party, Peter Obi, even as Ikpeazu and Ugwuanyi are reportedly torn between Atiku and Obi.
Findings, however, revealed that Ayu would wield the big stick after the polls to demonstrate the supremacy of the party in line with the PDP constitution.
A member of the PDP National Executive Committee and former governor of a North-West state disclosed that the action of the aggrieved governors infuriated party stakeholders across the board, warning that failure to call them to order would raise a lot of questions from loyal members of the party.
The NEC member said, "We watched every day how these leaders ridiculed the party. Nobody said they had no reasons to be aggrieved, but we generally agreed that there were other ways to speak on the issues than the way they did.
"When the elders (Board of Trustees) intervened, we all thought the crisis was over, but it only got worse. We expect some sanctions, although the leadership of the party will set in motion what to do with them.
"At the NEC, it was nothing short of a disgrace to wake up to see governors dancing not in solidarity with their party, but with rival parties to cast aspersions on the same PDP that catapulted them to national prominence.
"It's a good thing that Ayu is focused on the elections, but we would like to see what happens after that."