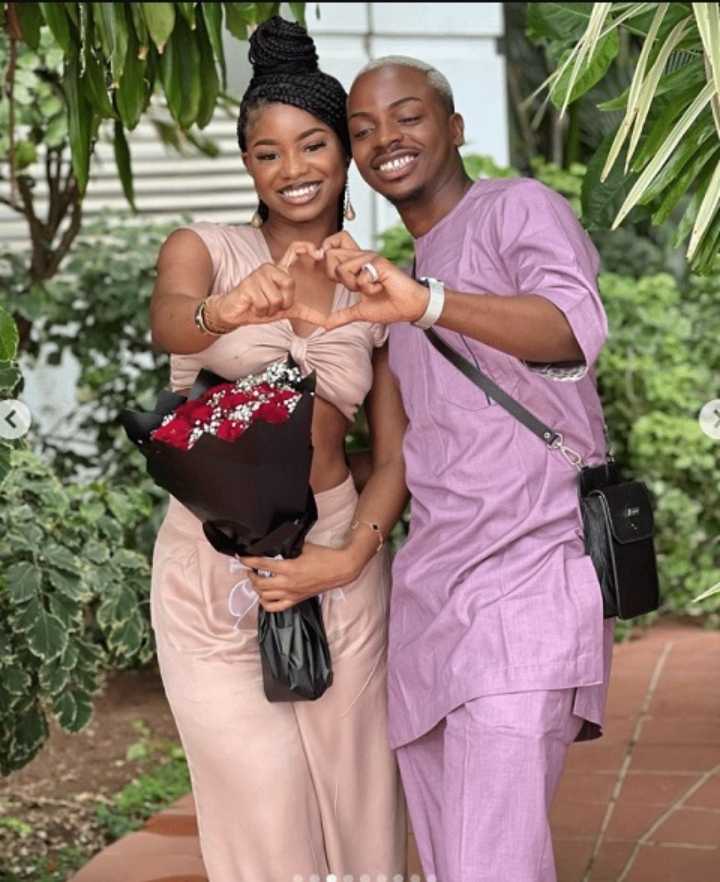 Priscilla Ojo, the daughter of Nollywood actress Iyabo Ojo has left tongues wagging on social media after romantic photos of her with influencer, Enioluwa Adeoluwa surfaced online.
Iyabo shared the photos after her daughter went on romantic date to celebrate her birthday.
In a post shared on Instagram, Iyabo Ojo said Eniola was unavailable during the last birthday celebration of her daughter and he decided to surprise her.
Gushing over their friendship, the thespian wrote: "@its.priscy & @enioluwaofficial #bbfgoals Surprise dinner to celebrate her birthday bcos he wasn't around on her birthday wahala for who no get best friend"
Priscilla also shared photos of the date on her Instagram page as she expressed love for Eniola, saying they would remain best friends for life.
She wrote: "There is nothing more beautiful than someone who goes out of their way to make you smile. Love you @enioluwaofficial BFF4L"
The photos generated mixed reactions from her fans and followers as some gushed over them while some speculated that the duo might be dating.
limdebbie wrote: "Hmmmmm something fishy is going down🌚you both look cute"
stepchidi wrote: "Everyone needs a friend like eni 🥹 @enioluwaofficial"
downpretty1 wrote: "Are they engaged? Am confused and happy at the same time"
_debbs_ wrote: "To make you smile… It's obvious you're extremely happy. I want a BFF too"
badboy_anoymous wrote: "Nah fam this can't be anything close to bff this Niggas are dating jor"
dianamodestine wrote: "You both look good together maybe you should take from friends to lovers"
monihee wrote: "This is so beautiful. I love you guys"
_princessmercy_ wrote: "Can y'all just get married already I love u both"
vibewit wrote: "Yes good friends only this is beautiful"
maryexpensive wrote: "I never understand Wetin sup, are they dating?"